Lt. Col. Oliver North to CPAC St. Louis: "We Are Still the Home of the Brave"
Lt. Col. Oliver North to CPAC St. Louis: "We Are Still the Home of the Brave"
Published: September 28, 2013
Contact: Laura Rigas, (202) 347-9388, lrigas@conservative.org
St. Charles, MO – Today, Lieutenant Colonel Oliver North, USMC (Ret.) addressed an enthusiastic crowd of conservatives gathered for ACU's fourth regional Conservative Political Action Conference (CPAC) in St. Louis, MO. Introduced by Dana Loesch, radio host of The Dana Show: The Conservative Alternative, Lt. Col. North addressed a full room of attendees on American resilience and our heroes overseas.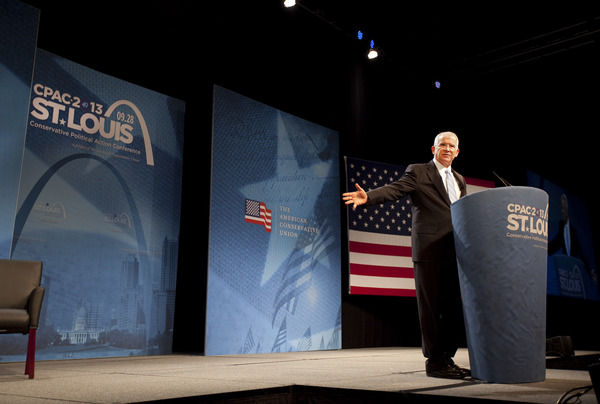 Photo Credit: Eric Draper Photography
Lt. Col. Oliver North, USMC (Ret.):
"Our government is broken, but we the people can fix it."
Regarding American pride, Lt. Col. North added, "We have to show our friends and enemies that we are the land of the free, because we are still the home of the brave."
Lt. Col. North's full remarks are available via YouTube here.
Please note that the schedule is available on our CPAC St. Louis website under "Program."
Founded in 1964, the American Conservative Union (ACU) is the oldest and largest grassroots conservative organization in the nation. For almost fifty years, ACU has served as an umbrella organization harnessing the collective strength of conservative organizations fighting for Americans who are concerned with liberty, personal responsibility, traditional values, and strong national defense. ACU defines conservatism, grows conservatism, and wins for conservatism.
###
Join ACU
The ACU Blog
Breitbart.com by: Michelle Moons
Senator John McCain (R-AZ)'s campaign team is getting called out by the very organization whose rating it cited on
The American Conservative Union urges Congress to allow the authorization of the Export-Import Bank to expire.
As with many government programs, the Export-Import
As part of ACU's long-term strategy to stand up against those who seek to take advantage of American Inventors, we
FOR IMMEDIATE RELEASE May 12, 2015
FOR MORE INFORMATION CONTACT:  Ian Walters (202)347-9388 iwalters@conservative.org
ACU Releases 2014 Annual Ratings
The Road to CPAC
It's Tax Day!
Ever wonder what the government does with your money? Don't worry, they're spending it just as responsibly as you would… Because everyone
Originally published by The Weekly Standard
Written by DANIEL HALPER
Hillary Clinton has arrived at her first campaign stop, completing the 965 mile
ACU Foundation Chairman Carly Fiorina appeared on Fox News this morning to discuss Hillary's candidacy for President.  "(Hillary Clinton) doesnt have a track record of
FOR IMMEDIATE RELEASE
Contact: Ross Hemminger (419) 934-3069
(Washington, DC) Today, American Conservative Union Chairman Matt Schlapp released the following statement on the