Lt. Col. Oliver North to CPAC St. Louis: "We Are Still the Home of the Brave"
Lt. Col. Oliver North to CPAC St. Louis: "We Are Still the Home of the Brave"
Published: September 28, 2013
Contact: Laura Rigas, (202) 347-9388, lrigas@conservative.org
St. Charles, MO – Today, Lieutenant Colonel Oliver North, USMC (Ret.) addressed an enthusiastic crowd of conservatives gathered for ACU's fourth regional Conservative Political Action Conference (CPAC) in St. Louis, MO. Introduced by Dana Loesch, radio host of The Dana Show: The Conservative Alternative, Lt. Col. North addressed a full room of attendees on American resilience and our heroes overseas.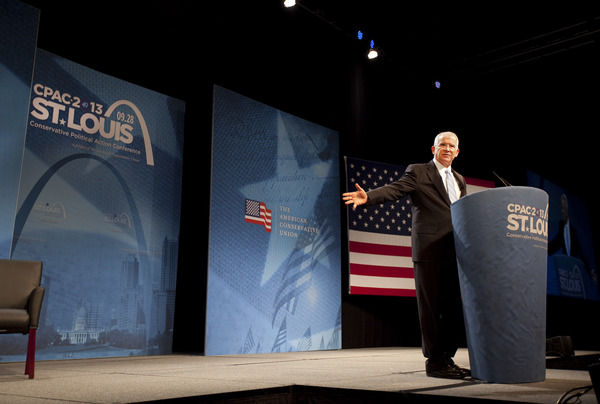 Photo Credit: Eric Draper Photography
Lt. Col. Oliver North, USMC (Ret.):
"Our government is broken, but we the people can fix it."
Regarding American pride, Lt. Col. North added, "We have to show our friends and enemies that we are the land of the free, because we are still the home of the brave."
Lt. Col. North's full remarks are available via YouTube here.
Please note that the schedule is available on our CPAC St. Louis website under "Program."
Founded in 1964, the American Conservative Union (ACU) is the oldest and largest grassroots conservative organization in the nation. For almost fifty years, ACU has served as an umbrella organization harnessing the collective strength of conservative organizations fighting for Americans who are concerned with liberty, personal responsibility, traditional values, and strong national defense. ACU defines conservatism, grows conservatism, and wins for conservatism.
###
Join ACU
The ACU Blog
The Daily Caller by: Larry Hart
When it comes to matters of public policy, you could not pick two elected officials with more
ACU Chairman Matt Schlapp appeared on CNN on 7/27/15.
Related
Have you been following the Planned Parenthood scandal?
We have.
All of us here at the American Conservative Union (ACU) feel disgusted and
ACU Chairman Matt Schlapp appeared on MSNBC on 7/24/15.
Related
CPAC 365
CPAC 2016 will be March 2nd – 5th, 2016 at the Gaylord National Resort & Convention Center. Sign up for the latest updates
The Iran Nuclear Deal:  What Can We Expect?
This summer, President Obama and Secretary Kerry seek to establish a nuclear
Written By: Spencer Brown
In a speech on voting rights in Houston, Texas, Thursday afternoon, democratic presidential candidate Hillary Clinton outlined three groups of disenfranchised
"The people I see at Conservative events contain vast numbers of young activists."
Hot Air By:  Jazz Shaw
As we "all know" from listening