David Keene to CPAC St. Louis: "People Will Stand With Us."
David Keene to CPAC St. Louis: "People Will Stand With Us."
Published: September 28, 2013
Contact: Laura Rigas, (202) 347-9388, lrigas@conservative.org
St. Charles, MO – Today, David Keene, opinion editor of The Washington Times and former President of the National Rifle Association, addressed an enthusiastic crowd of conservatives gathered for ACU's fourth regional Conservative Political Action Conference (CPAC) in St. Louis, MO. Introduced by Charlie Kirk, Founder and Executive Director, Turning Point USA, Keene addressed attendees on the second amendment and conservative values.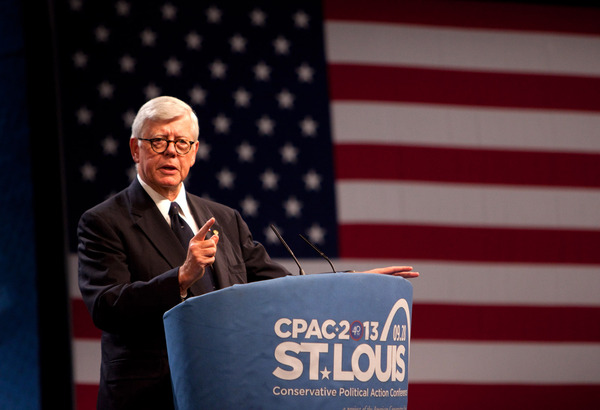 Photo Credit: Eric Draper Photography
David Keene:
"If we stick to principle, if we remember what it is we are about and what it is want to accomplish, and if we organize around those principles and stand for them, people will stand with us."
Regarding the double standards of the Democratic Party and Obama administration, Keene said, "I find it ironic for example that they tell us that we should not ever judge all Muslims by the actions of a few lunatics, but at the same time they encourage us to judge all gun owners by the actions of a few lunatics."
Keene's full remarks are available via YouTube here.
Please note that the schedule is available on our CPAC St. Louis website under "Program."
Founded in 1964, the American Conservative Union (ACU) is the oldest and largest grassroots conservative organization in the nation. For almost fifty years, ACU has served as an umbrella organization harnessing the collective strength of conservative organizations fighting for Americans who are concerned with liberty, personal responsibility, traditional values, and strong national defense. ACU defines conservatism, grows conservatism, and wins for conservatism.
####
Join ACU
The ACU Blog
Originally published on Townhall.com
by Mike Vespa
Earlier this week, Indiana Gov. Mike Pence signed into law a religious freedom bill
Is this the beginning of the end of Obamacare? According to the Washington Times,  'Premiums are rising rapidly and the young and healthy are bailing
Here's a throwback piece from The Washington Times in January of 2014…. Showing how the now anointed Senate Minority Leader, Chuck Schumer has a history of
It looks Hillary is having trouble keeping promises AND being transparent yet again.
Originally published by Reuters
The Road to CPAC